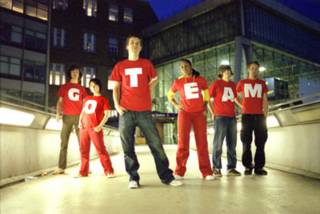 As I said before in my first post, I have my own college radio show, also called Hectic But Eclectic, which you guys can check out at
http://www.uicradio.ws
from 6:00-8:00 P.M. Central. Here was tonight's playlist:

Franz Ferdinand-Take Me Out
The Go! Team-Ladyflash
Har Mar Superstar-Body Request
The Pharcyde-Passin' Me By
The Foreign Exchange-Raw Life
Junior Boys-High Come Down
Red Hot Chili Peppers-Soul To Squeeze
The Violettes-Blue Hearted Fool
The Turtles-Happy Together
The Temptations-Just My Imagination
Bebel Gilberto-Everyday You've Been Away
The Beatles-Something
Outkast-Prototype
Flaming Lips-The Gash
Lauryn Hill-Ex Factor
Snoop Dogg F/ Pharrell-Drop It Like It's Hot
Hangar 18-Go Git That
Lady Stush-Dollar Sign
Ash-Candy
Randy Newman-Sail Away
Janelle-Blue Skies
David Garza-Blow My Mind
Asobi Seksu-Umi De No Jiastsu
Lamya-Empires
Digable Planets-Black Ego

Look for updates every Monday night if you aren't able to listen, but I highly recommend that you should anyway (wink). In what's going to be the norm here, I'm going to highlight one or two artists from my playlist who I think deserve your attention, with a song or two to download along with it(MP3S ARE ONLY UP FOR A WEEK!). First off, the lovely Bebel Gilberto:

Gilberto, the offspring of Brazillian pop legends Joao Gilberto and Miucha, has crafted one of the dreamier and more romantic albums of the year, the self titled, Bebel Gilberto. I feel like falling in love everytime I hear this album. Her sensual, fragile voice does it to me everytime when she sings to me in my room that she misses me "every day I've been away." And the hell with anyone who says that she's not singing to me. Next time you're alone, I dare you to listen to this album with the lights off. You'd feed nitroglycerin to kittens to wish that she was singing those songs about you.

But anyways, the song I've chosen to share is her latest single, "All Around", which pretty much sums up the direction she's headed with this album. She's ditched a lot of the electro-bossa nova touches of 2000's Tanto Tempo and gone into full sophisticated Norah Jones-sippin'-pina coladas-on-the-beach mode. She coos softly into your ear, you slide slowly from side to side to the soft brushes of the drum, softly touching her hips. The strings and flute perfectly set the mood. You think things are going your way, but you're not quite sure. Then everything gradually stops, with only Gilberto's vocals and the strings sustaining, "Do you know," she serenades to you, "how it feels without anyone?" A smile crosses your face as her voice continues to soothe you.


Bebel Gilberto-All Around

To buy her album,
go here


And as for The Go! Team, I couldn't find out too much about them except that they're from Brighton, England and they have a couple of cute chicks in their group. But by listening to their music, one can tell they've obviously spent a lot of time with old 70's pop records and have probably picked up a trick or two from the Dust Brothers. They make giddily, sample-fried songs packed with an insane amount of enegry and very little attention span with plenty of trashy pop tactics, aimed at making you smile and shaking dat ass. Picture a more sluttier, eager to please Avalanches, and you've got The Go! Team. I'm anxiously awaiting the day their debut album, Thunder, Lightning, Strike gets a U.S. release.


The Go! Team-Ladyflash
The Go! Team-The Power Is On
If you wanna try a crack at amazon.co.uk, go to:
http://www.amazon.co.uk/exec/obidos/ASIN/B0002LQ8CQ/qid=1098160200/sr=2-1/ref=sr_2_11_1/202-6566119-0909442